Policy and System
Basic Policy
Based on our Management Philosophy, we take on the challenges of solving social issues through the digital transformation (DX) of our clients' businesses. In 2023, we plan to identify materialities (material issues) in order to accelerate sustainability management.
Promotion System
In December 2022, we established the Sustainability Committee chaired by the Representative Director, President, CEO. With authority delegated by the Board of Directors, the committee considers measures to realize the sustainable development of industry through business activities and reports to the Board of Directors.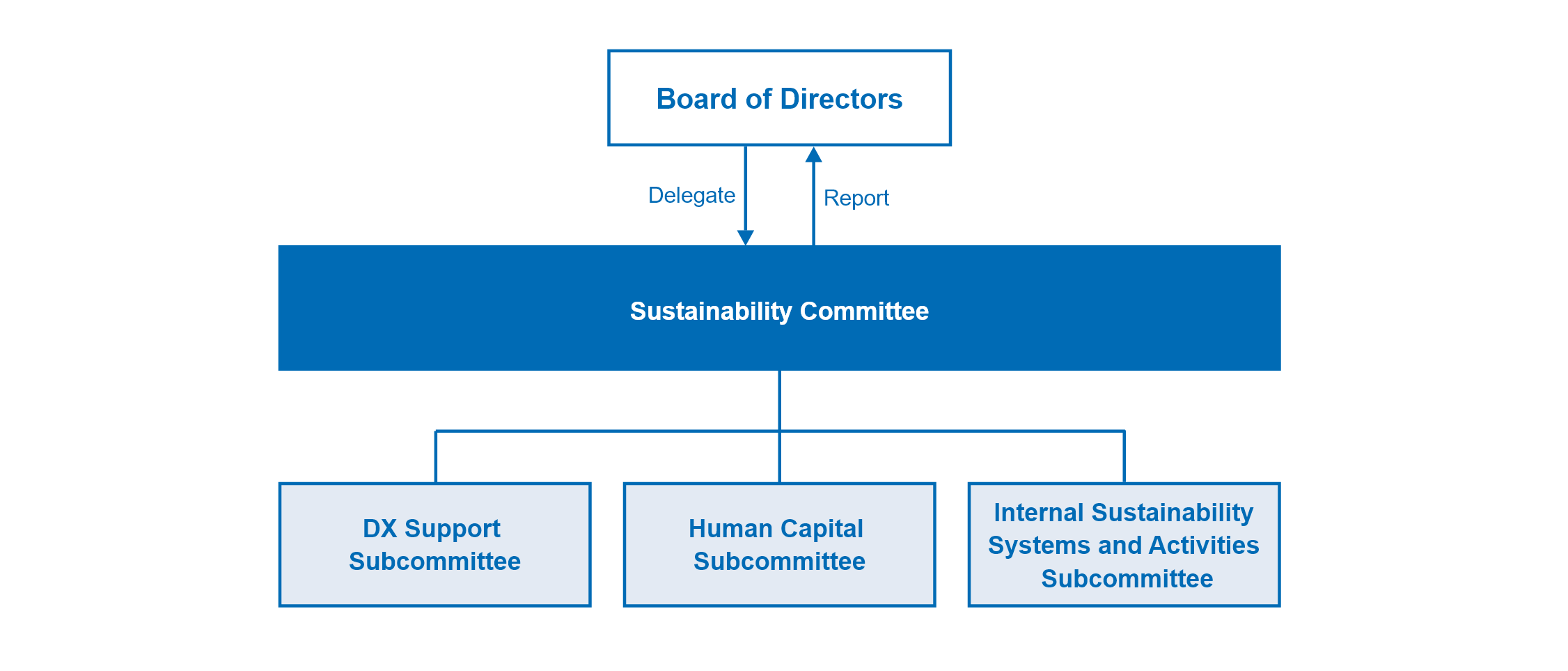 Solving Social Issues through our Services
Solutions that Contribute to Reducing Environmental Impact and Eliminating Labor Shortages
Core Concept Technologies supports DX, primarily in the manufacturing and construction industries, using the "Orizuru" DX development base.
By using AI and IoT to provide support for automation and operational streamlining of design, procurement (receiving orders), and manufacturing processes, we increase sales and improve profit margins for our clients, as well as contributing to solving many social issues, such as improving asset efficiency, reducing environmental impact by energy efficiency, eliminating labor shortages by improving labor productivity, and passing on the know-how of veteran personnel.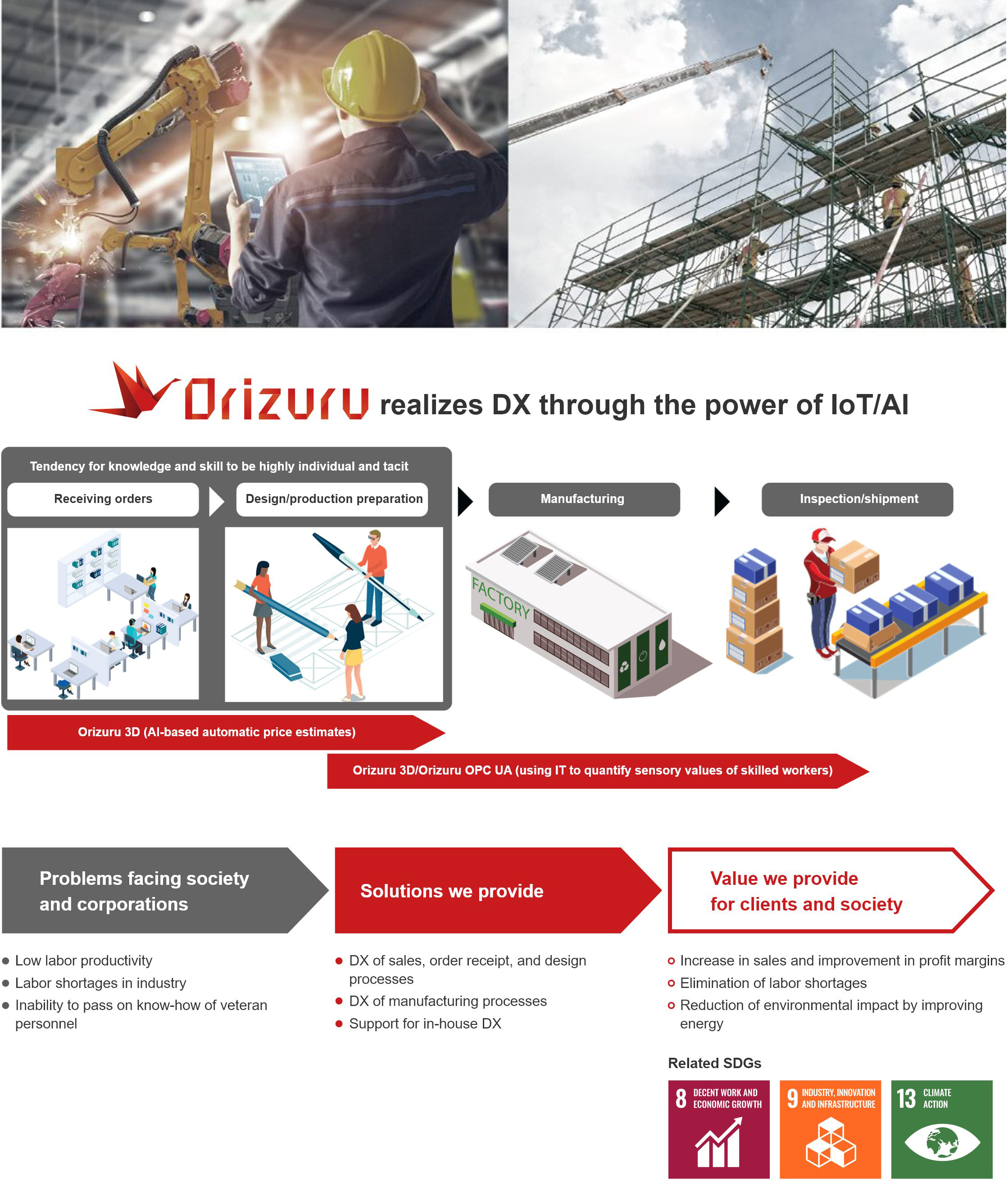 Human Resources Database Contributing to Sustainable Development of IT Industry
A multi-tier contracting structure under which there are a number of intermediary agencies in between business companies that place orders for projects and the IT companies that actually carry out the work has become the norm in the Japanese system integration industry. As a result, adverse effects are observed, including income inequalities due to intermediary margins and increasingly complex chains of command. Using "Ohgi," a large-scale database of small and medium-sized IT companies and their IT engineers, Core Concept Technologies has built a system that eliminates intermediary agencies and allows orders to be placed for a reasonable price directly with the small and medium-sized IT companies that actually carry out the work. In addition, bringing clients and contractors closer together provides work satisfaction for IT engineers and increases the potential for improving their skills. Through these initiatives, we seek to reduce IT engineer shortages and income inequalities to contribute to the sustainable development of the IT industry.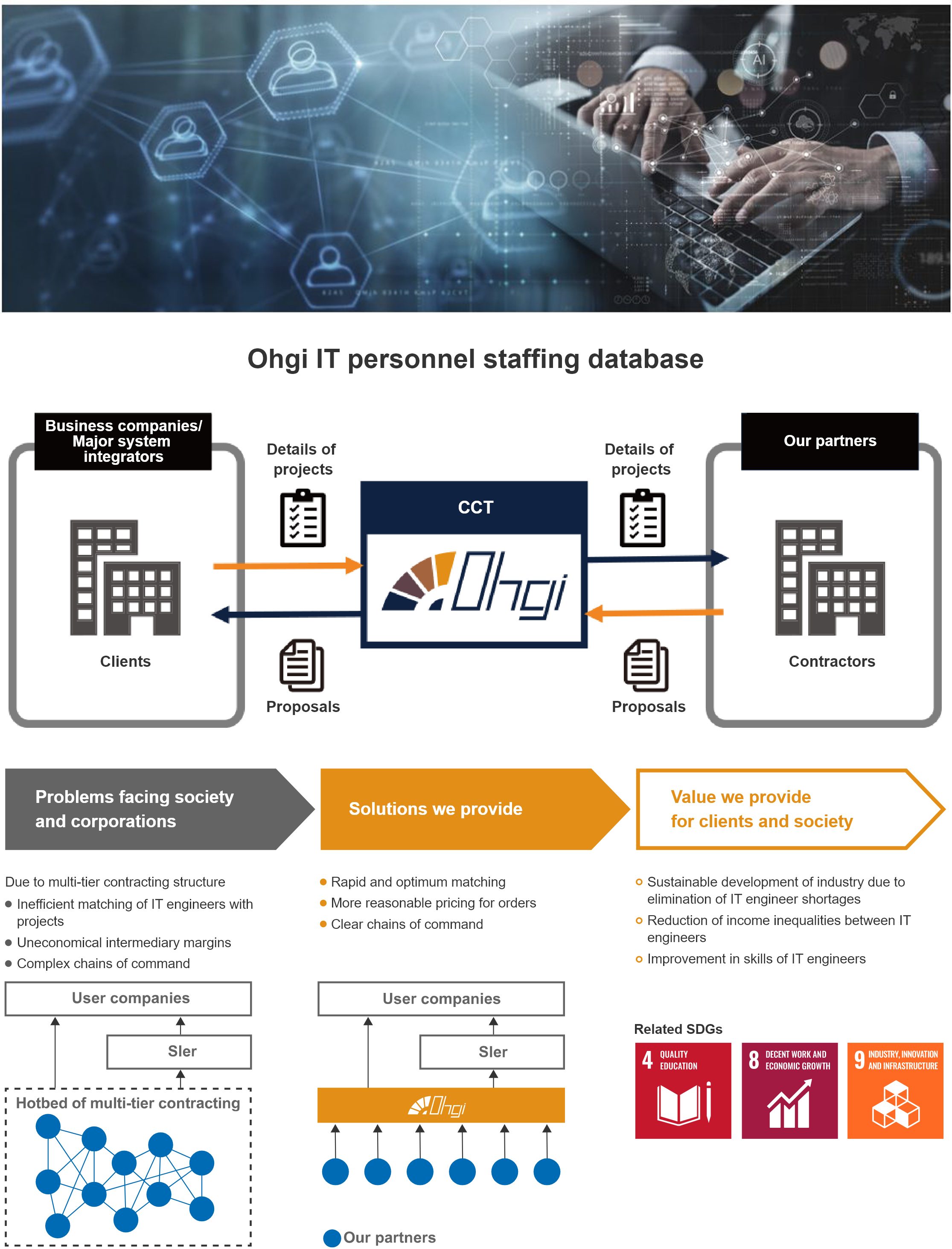 ESG Activities in Business Processes
ESG Activities in Business Processes
Our head office is located in DaiyaGate Ikebukuro, an office building that has realized net zero CO2 emissions through solar power generation since April 2022. We have also identified CO2 emissions at our other business sites and are working to reduce them.
FY2018
FY2019
FY2020
FY2021
Greenhouse gas emissions Scope 1, 2 (kg)
50,739
81,527
79,943
80,255
Number of employees

(※1)

126
169
204
240
Emissions per employee (kg)
402
482
391
334
Net sales per kg-CO2 emissions (millions of yen)
66.44
58.46
69.22
97.20
Operating profit per kg-CO2 emissions (millions of yen)
2.62
2.02
2.25
6.80
Industrial waste emissions (kg)
(㎥)
5.0
2.9
2.5
1.0
(kg)
0
0
860

(※2)

0
※1 The average number of employees registered from January to December.
※2 Disposal of fixtures occurred due to office relocation.
Developing Human Resources and Improving the Workplace Environment
The basic policy for our personnel system consists of four parts which are fostering professionalism, results-based evaluation, transparency of the wages system, and review of the evaluation system as necessary (efforts to ensure fairness). We have established systems and a workplace environment that enable employees to refine their skills and reach their full potential through their work while facilitating a work-life balance based on workstyles unrestricted by time or location.
Promoting Work-Life Balance
System for telecommuting at the discretion of the individual
Flextime system with no core time
Establishment of days when taking paid leave is encouraged
Encouragement to take company parental leave and statutory parental leave
Investing in Human Resources Development
Study groups by "expert professionals" with advanced technical skills
Subsidies for self-development expenses
In-house library system
| | | | |
| --- | --- | --- | --- |
| | FY2019 | FY2020 | FY2021 |
| Number of employees | 185 | 212 | 250 |
| Male | 152 | 175 | 211 |
| Female | 33 | 37 | 39 |
| Hours of overtime | 19.88 | 22.08 | 22.81 |
| Employee turnover (%) | 14.8 | 10.0 | 8.8 |
| Percentage of female managers (%) | 0 | 4.0 | 4.0 |
| Number of male employees taking company parental leave | 1 | 4 | 3 |
| Percentage of eligible male employees taking company parental leave (%) | 33.3 | 80.0 | 42.9 |
| Number of male employees taking statutory parental leave | 0 | 1 | 3 |
| Percentage of eligible male employees taking statutory parental leave (%) | 0 | 20.0 | 42.9 |
| Number of female employees taking statutory parental leave | 0 | 1 | 2 |
| Percentage of eligible female employees taking statutory parental leave (%) | 0 | 100 | 100 |
| Number of employees with a disability | 1 | 3 | 4 |
| Percentage of employees with a disability (%) | 0.60 | 1.46 | 1.66 |
| Percentage of employees receiving a health checkup (%) | 99.46 | 66.21 | 92.05 |
Human Rights
Believing that respect for the human rights of stakeholders is essential for realizing sustainable growth, we place great importance on international norms, including the UN Guiding Principles on Business and Human Rights. We respect the fundamental human rights of stakeholders and do not tolerate discrimination or harassment on the basis of gender, age, nationality, race, religion, disability, or other differences. In addition, we do not permit child labor, forced labor, or labor for unfairly low wages.
Corporate Governance
We recognize the importance of earning the trust of all stakeholders by aiming for sustainable growth and the enhancement of corporate value over the medium to long term while also providing services that contribute to society. Based on this recognition, we ensure thorough compliance and are also working to strengthen corporate governance, including establishing the Audit & Supervisory Committee to ensure transparency in management decision-making and oversight of business execution.
We have also established the Risk Management Committee and the optional Remuneration Committee to secure the corporate governance system and carry out appropriate risk management. We engage in the necessary activities, such as compliance training, and we have established an internal reporting system as a system for internal consultation and reporting related to legal violations and other compliance issues.